Kayak for Empty Nesters
Tom and I are adjusting to our newly acquired freedom. It feels like when you get used to carrying a bag on your shoulder and suddenly there's no need for a bag — something's missing, forgotten, lost. Such became our Sundays.
Still on my autopilot, I wake up with a list. Or the list wakes me up. Over the last 20-something years, The Sunday List has been my beacon of light: laundry, breakfast, meal plans for the week ahead, house cleanup, lunch, food shopping, occasional chauffeuring. And the deadline — dinner time. Every week.
Slowly, things started to loosen up. Everyone is washing their own clothes now and laundry is doable on weekdays. Same is for the shortened food shopping lists. Circadian rhythms drifting in opposite directions and conflicting schedules cut family meal times to occasional dinners together. Newly acquired drivers licenses eliminate the need for a chauffeur.
On August 30, 2018, everything became very different — no one needs us from this day on. They all are off. It's now me and Tom.
Changes aside, my mind and energy are still in that high gear of The Sunday List days. During the week, this energy pours into the studio. Sundays are different. After thirty years of living for my children and and their schedules, it turns out I didn't mind it — I like being busy and moving. But it takes time and effort to refocus this energy back to yourself.
In our previous life, many a times Tom would come home from work with this head-in-the-shoulders look — sorry, have to work this weekend. How much I hated that! In our new life, these dreadful announcements don't sound that dreadful anymore. Working weekend? Great. Let's drive in together, meet in the city once you're done and do something. We've discovered places, exhibits, gone out to eat, watched movies, shows, reunited with friends, with each other.
This Sunday started the same. We drove in together. Tom went off to make money. I went off to spend it: took my class, had a snack, ventured onto a High Line and learned to stay away from it on weekends — worse than Times Square. At Landmark 57, there was a movie with one of my favorite people, Gael Garcia Bernal. After four hours of sleep and nine hours of work on a weekend, Tom agreed to watch it with me. Landmark 57 is so great: nine rows with 12 seats each, full bar and nice pub fare.
The movie is over and Tom is somehow different — something is up. I can tell.
— So, Tom. What do you think?
— Yeah, the movie? It's great. Gael Garcia? Right, so good. By the way, do you remember I sent you that link?
— Which one? — Tom always sends me links to the cool stuff he stumbles upon while doing research for his work.
— About the kayak.
— Sort of. Why? — my mind is on a Middle Eastern restaurant I've discovered in the morning.
— Do you want to go get it?
— Now?
— We're here.
We're here. Whatever that means. We're on the corner of 57th and 12th in Manhattan, our car is by 30 Rock, and the kayak is in Brooklyn somewhere between Bensonhurst and Coney Island. Yes, for those of us from the grand state of New Jersey, this five-borough town is just that — one thing. We are here.
— But the car? Don't you think our big car would be better to transport it? — my last feeble attempt for grilled octopus.
— So, you don't want it?
Of course I do!
And here we go: FDR, Brooklyn Battery Tunnel, Ocean Parkway, looking for Avenue J, listening to some Jeep kids on our left quizzing — over our heads — a Porsche guy on our right on how high he can floor it. He floors it higher than them and us. How is it possible not to love the let's-live-the-life vibe of this town? So good to be a part of it right here, right now.
Our destination is under the elevated F train. Metal doors with peepholes between barred windows. The street is empty. It's getting dark. Our lonely little Honda Fit looks orphaned. Here's the door, we buzz in. Contrary to his towering appearance, Kayak Mike is as friendly and laid back as can be considering it's Sunday night and his son's birthday. He stayed late and waited just for us.
Kayaks of all colors and kinds cover the floor and the walls of the outdoor courtyard. We make up our mind quickly. The question is now how do we get it home. The blue two-seater is almost twice the size of our car. And we have no roof rack. Necessity is crafty, isn't it. A couple of bubble wrap layers on the roof to prevent scratching and sliding, some rope from the nearby convenience store — and we're on our way home.
Google maps suggest an hour and a half route through Staten Island. These are our ninety minutes of the Kingda Ka ride. Right hand turn onto the Belt Parkway is like a dive off the cliff. Merge on the Verrazzano lower level at almost 45° tilt feels like the end of it all. I sit on my hands. We don't talk and don't look at each other. I don't think we breathe. Staten Island Express Parkway goes by in a blur: is the kayak moving up there?.. sliding?.. what's this sound?.. are we flipping?.. when is New Jersey?.. I feel numb.
Goethals Bridge is a home coming bridge.
Now we are on a Jersey soil and it feels that if the kayak falls off here — so be it — we're home. Not. The reality of the Turnpike sets in right away — Elizabeth, Newark… Newark?.. It's almost home… Only… 45 more minutes?.. No! A stretch on Route 80 lies ahead… Then, there's 17… "The traffic there's mean…" Here's Century Road exit, at last! Worse comes to worst, from this point, we can walk home.
And the best road sign ever — Ridgewood Avenue, Keep Right.
We do.
Once the car takes that right hand clover turn onto Ridgewood Avenue, we exhale, sit up, and look at each other. Tom smiles. It's a teenage moment — we pulled this one off, what's next?
Intensity of this transportation took over to the point I forgot about the phone and taking pictures. So here're some views of what came next. It was worth it.
This is our new baby, nice and blue, chairs, oars, and all.
And this is beautiful Barnegat Bay — off season — barely anybody here today.
Clam Action! We have to fulfill our duty and deliver to our Thanksgiving table a pot of clam chowder traditionally made with Jersey clams.
The catch of the day. We did get some a week before and hopefully will make a few more trips before the weather and the water start getting colder.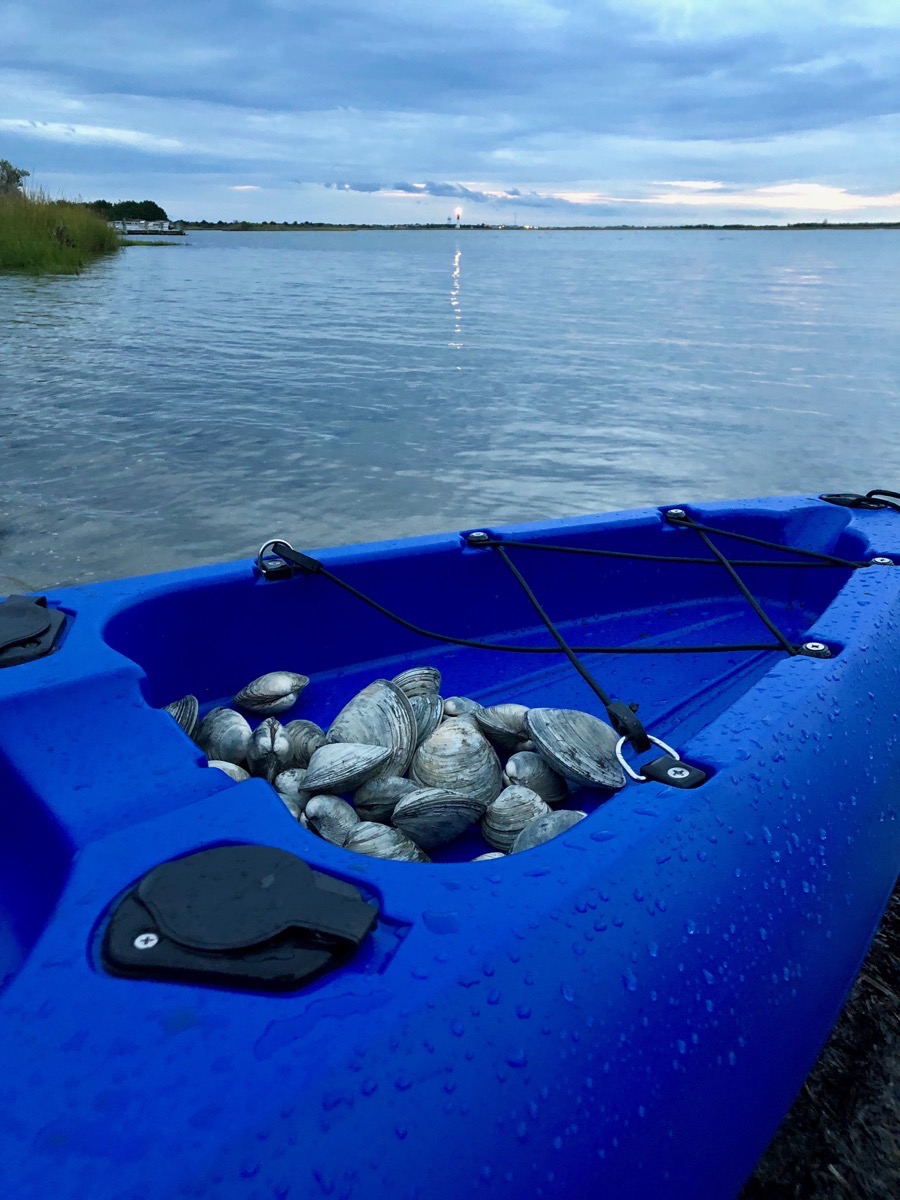 Yes, the sunset looks divine. Seeing this, all I can think of is a massive mosquito cloud descending upon us as Tom, in pitch black, is strapping the kayak to the car and me waving a beach towel over him. Not sure whether it is more helpful or annoying to him, though. Once Tom is done, we cross to the other side of Island Beach State Park, the ocean side, pull up our beach chairs right to the water, and have our dinner under the moonlight, with no one in sight.
P.S. An afterthought: shouldn't Staten Island be a part of New Jersey? Look at the border line — how they forced it to the left. No?
---
---