That time we went to taste Queens
— Did you tell her she can eat!?!?
It was a little after 8 AM on a sunny April Sunday of 2009. I was upstairs in the bathroom getting ready. Downstairs, Tom caught our nine-year-old Lizzie sneaking cereal in the pantry. No, I didn't tell her that.
We were heading to Queens for my birthday and we had to be hungry. We were not going to a restaurant — the plan was larger.
Over the previous year, following the New York Times Dining section, we made a list of little hole-in-the-wall Queens eateries to check out in different neighborhoods. Besides, Charlotte was going through an immigration unit at school, so we though it would be fun to see the real deal.
We had three areas in mind —Jackson Heights, Corona, and Flushing — and a list of about 15-25 different food establishments to try. According to our agreement, we were to get one appetizer at each place, split it between the four of us, and move on. No food was allowed until we get to Queens.
Lizzie was breaking that agreement when she went for that cereal.
The plan was to park in Manhattan and take the 7 train from there. By the time we found a parking spot around Lexington in the 30's — yes, we like to park for free on the street and that takes time — it was past 11 AM, our hunger reached the point we didn't even look at each other. Even a little thing could make any one of us snap so we all kept our mouths shut. Once we got over our Metrocard having no money on it and creating a delay, we walked into a subway car and all went into different corners to stay away from each other. The entire ride we stared through different windows.
Smack at the bottom of the subway staircase at 82 St-Jackson Heights there was a taco cart. That cart was not on our list and tacos were planned for Corona. But we couldn't. The weakest link among us when it comes to food, I suggested to split a taco.
— Only one, — Tom said.
— Can we please have two? — the girls' eyes started filling up with tears. I could only imagine what bystanders were thinking at the sight of crying hungry children and mean parents saying no.
Reluctantly but suspiciously quickly Tom approved two. Not sure what those tacos felt or tasted like — my half of it slid into the void like air. We perked up at least to the point of talking.
Tom pulled out our official food crawl list and we set off to our first place, UFC Chicken on Roosevelt Avenue. Nowadays, Korean chicken wings are not a big deal and available just about everywhere in the city. Back in 2009, outside of Korea-town they were a hard-to-find commodity. When the girls saw how those wings looked they pushed for ordering one meal as opposed to one appetizer. Softened by tacos and still hungry, we agreed.
Strolling though Jackson Heights is an amazing experience. You walk a few blocks, and letter symbols on the signs change, faces change, clothes change, smells change. It's like walking from one country to another, block after block. Following the list, we walked through Burma, Thailand, India.
The Jackson Heights leg of our trip ended in Nepalese Merit Kabab and Dumpling Palace where we settled on a traditional goat stew.
The next stop was 103 St-Corona. Our tasting list was still long but we were not into food as much — we wanted just to look around and at things food. Tortilleria Nixtamal seemed interesting and we stood for a while watching through the window tortillas sliding off the conveyer belt.
The sunny red and yellow place was not busy and the owner Shauna, was hospitable. She took us around the kitchen and the basement, showed bags of corn and explained nixtamalization: cooking and soaking white corn in a calcium hydroxide solution to make masa. She turned on a tortilla making machine for us — just like corn it was also imported from Mexico.
We felt bad she spent so much time showing us around and we could not eat. Not to dissappoint, we bought a few pounds of house made tortillas to take home. On the way out, our thirsty girls noticed a jar with something white.
— It is horchata, — Shauna explained — a rice drink made with vanilla, almonds, and cinnamon.
Suspicious at first, once tried, the girls stuck to the jar and pretty much finished it.
With that, we were not only uncapable to eat, we also couldn't drink. For a while, we were strolling around the neighborhood looking at the store fronts, people, balconies turned into storage areas, front yards turned into gardens, and of course food carts on the main drag.
After some time, our feet brought us to The Lemon Ice King of Corona. This place was on our list and we joined the line which seemed to be endless as was the list of flavors. Although one window of the two was closed, the line was moving quickly. We were making our picks when suddenly police cars started showing up all over the place: one, and another one, and another one. Was it a heist? Should we be nervous? Nope. We shouldn't. The second window of the joint opened up and Queens finest lined up for their fill of Italian ices.
We went through the line twice and tried eight different flavors between the four of us.
It seemed like that was that for food. We walked a block and landed on a bench in Flushing Meadows Corona Park in a food coma. For at least an hour, we were sitting watching the life around us. Little Hispanic babushkas trying to make some business selling bottled water on a hot and humid day. Occasionally, they were hassled by shorts-clad police. There were couples on an obvious date, families on a picnic. 
There were parents walking their kids on a leash just like I used to walk Anton on a leash during slushy Moscow winters — it gives kids some room to move around independently but keeps them connected in crowded places.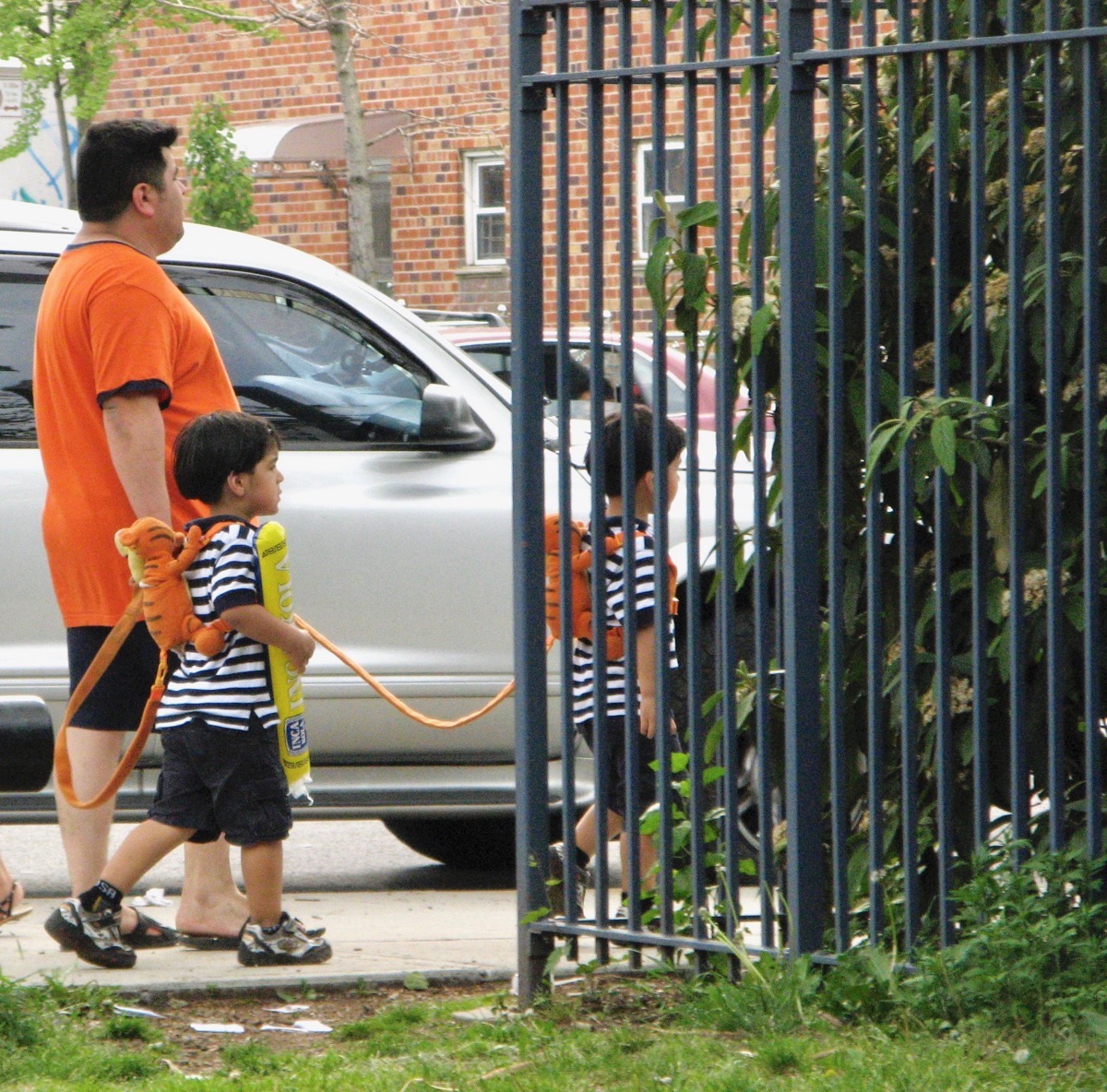 Eventually, the girls got up and started moving around the bench, wandering farther away, initiating one of those games they could play when there were no toys around. We thought our culinary trip was over and were preparing to head back home.
In another hour, the girls skipped towards us:
— When are we going to start eating again?
Honestly, Tom and I were ready for a snacks as well. All right, Flushing, here we come!
At the last stop of the 7 train, Flushing-Main Street — it was another country. No one spoke English around us. From here, Canal Street with its Chinatown seemed like Wonder Bread — this was China.
On our list, there were at least ten or twelve places left to go through. We decided to scratch them all — we overestimated our digestive capacities. Instead, we had a few skewers here and there on the street and walked through colorful Flushing markets.
Now these soup dumplings are a hot commodity in most Chinese restaurants, especially in those hard-to-get-in on St. Mark's Place. Back in 2009, you could only get them in Flushing.
Noodles of all sizes and all flavors looked oh so tasty.
By the end of the day, the girls became wild adventurous and were going not by the sign but by the look — if it looked good, they would try it.
We dived into the Famous Foods basement, the one where Anthony Bourdain discovered X'ian Foods and helped launch them into Manhattan. On the walls of the basement, there were pictures of him chowing down on noodles at local counters. There was even a picture of Martha Stewart eating at one of the tables here. We stopped at Golden Shopping Mall. Going by the images on the walls — not too many English signs there — the girls parked by the Vietnamese window.
There were no more arguments: only one thing to split between the four of us. Lizzie poked at the picture of a bowl with soup. The server at the counter sounded hesitant and pointed at our girls. We couldn't understand what caused the problem. Another one helped with translation:
— Are you sure? Will they eat this?
We confirmed they would eat anything. The bowl arrived. Absolutely delicious, most fragrant — mint, lime, and everything — pho. We were inhaling the aroma of it more than swallowing the broth.
Lizzie questioned:
— What's that crunchy stuff?
We stalled for a moment but decided to be bold and honest:
— It's tripe.
— What's tripe?
— The stomach of a cow.
— Oh, cool, — and she kept on chowing.
Charlotte was slurping without asking questions.
The sun was setting for the night and besides an hour or so on a Corona Park bench, we were on our feet for more than 12 hours. It was time to hit the road home.
The last place on our list was a restaurant called Spicy & Tasty. At that point, our cash supplies went down — most of the places we tasted were cash only. We also needed a little break from walking and a place to sit down in a comfortable chair. Plus, a few appetizers would make a nice lunch for tomorrow.
Five gigantic plates appeared in front of us. I panicked — the restaurant was cash only, we had something around $30 left and the amount of food on our table could serve a serious party. I told our waitress how much cash we had and asked where the nearest cash machine was if what we had was not enough. She laughed and said we have enough to order a couple of meals besides that.
This was chilled celery, tofu, seaweed, and mushroom salad mixed with fragrant Sichuan spices.
We got adventurous and went for another dish of spicy tripe but now with beef tendons Sichuan style. 
This one was a plate of Arctic clams in wasabi sauce. We all like spicy food and always order at least one dish from the crustacean family.
Dry fried shredded yard-long beans mixed with various hot peppers and some ground pork. This was a combination when the heat of red peppers was followed by the signature mouth numbing effect of Sichuan peppercorns.
Chopsticks appeared in these Zha Jiang Miang noodles solely for the purpose of taking an action shot. Tired and unable to eat, we just sat there for a while looking at our food, laughing at the adventures of the day.
Tired, stuffed with food and hungry for more tastes at the same time, happy, and full of new impressions, we worked our way through Flushing's markets towards the 7 train.
At home, with a little rice on the side, those appetizers from Spicy & Tasty carried four of us through the next week and some.
Update: Spicy & Tasty is no more. So is Tortilleria Nixtamal. But places like this do not disappear — they evolve. It's time to go back. 
---
---