Trip to Russia. Day 2. Moscow. Off to the left, through Sparrow Hills to the City
"If you want to see a city like a local and understand it, visit a market, a train station, and a cemetery."

                                                                                                                                                 Unknown
On our second day, we took a turn from my appartment building to the left, towards Neskuchny Sad. In Russian, the name of this park means something like Not Boring Garden. It is the oldest park in Moscow. In the 1700s, one of its owners, merchant Demidov created a beautiful garden here. To guard it, he posted his servants all over the place. From top to bottom, the guards were covered in white chalk and looked like usual garden sculptures. When visitors were misbehaving or breaking something, "the statues" would start moving and talking. Rumors about live statues in Demidov garden spread throughout Moscow and crowds poured in to check out the miracle. This is when the garden got the reputation of a not boring one.
This palace which belonged to Demidov, was the center of the garden. It changed hands many times. In the 1830s, Nicolas I bought it for his wife Alexandra Fedorovna. After the revolution, in 1930s, this palace was given to the Russian Academy of Sciences for its Presidium.
Access to the grounds has never been restricted to the public and it was my shortcut on the way to school in grades 1-10. The lilac in this garden was luxurious. If you happen to make friends with police guarding it, and those guys were always my friends, they would let you into the garden late at night to cut some of the lilac and bring it home. Every year, on May 21, I would bring armfuls of gigantic lilac branches for my mother's birthday. They were her favorite flowers. It you weren't friendly with police, you still could get flowers by climbing through the fence separating the courtyard of my building and that of the Academy. You just had to be careful and try not to get caught. I don't remember anyone being caught or punished.
Once we cut through the Academy, we came into the courtyard of the next apartment building. Back when I was in school, that building was referred to as The Sixteenth — this was its number on Leninsky Prospekt. That courtyard had the best hills for sleigh riding imaginable: steep on one side, easy on the other. My grandmother first brought me here when I was five and we just moved to Leninsky. Later, I was bringing little Anton.
These hills are so overgrown now. And here's this civilized paved path between them — benches on either side. Does anyone even sleigh here anymore?
The best hill was in the middle. If you could get a good load on the sleigh — two or three people — and the front rider could properly steer, you could slide under three bridges along the long trail all the way to the Moskva River. And then it would be the longest trip to pull the sleigh back up.
We took a little detour to look at this four story building. I remember it as brownish gray. Today, it is some indefinable pink. It was my school where I studied from the first grade to the tenth.
The two windows on the second floor, to the right of the awning, are the classroom #23 where I started learning the English language. I was in the second grade. My teacher's name was Nina Sergeevna Pankratova.
The grounds of the school were protected by a metal fence so we returned back to the park. I remember this former summer house that, in the 1800s, belonged to Count Orlov, as a library or a reading hall. You could go and read there but you couldn't check the books out.
My family and friends called this place "gulianka." The word was made up by my mother to mark the place where we were getting together for a walk with little kids. Anton spent here the first seven years of his life — daily.
My mother was a firm believer in the benefits of fresh air for little children and Anton was taken here twice daily — rain or shine or snow, hell or high water. Life in our house revolved around taking Anton for a walk. To make thing fun, my mom and I put together a group of women with the children of approximately the same age. The core group was made of three Antons, Koliunya, Kiriusha, Tyoma, Anechka, Phillip and his brother Masik. There were other kids floating in and out. But those were the solid core.
During food shortages of the 90s, mothers of our gang masterfully borrowed kids from each other to stand on line when food was given to the number of people present in line. In turn, our children knew to refer to each other as siblings, change clothes to create a new look for each new shopping "parent." They loved each other. They fought. The mothers made a pretty tight group, too. So kids' shenanigans would not ruin adult relationships, the mothers made a rule not to interfere into fights until first blood. And if there were issues, somehow each of the mothers was able to produce proof that it was her child's fault and not that of the other. We had campfires here and roasted potatoes. Done with nursing, we would bring drinks to have a party as kids rolled in the snow, in puddles, in sand, in piles of coal. Why was that coal there?
These nine met when in diapers sleeping in their prams. Together they entered the first grade in that pink school.
Further into the park, we came to this 17th century grotto. It was a fantastic place for hide-and-seek and for hiding "secrets" signifying forever friendships. There still might be pieces of a broken glass that my friend Oxana and I — sixth graders — buried to proclaim eternal loyalty. 
A monument dedicated to the 800th anniversary of Moscow. One of my most hated places in the park. Memories of this beautiful rotunda are forever tainted with those of the outdoor PE classes in Neskuchny Sad: cross country skiing in winter, track and field in spring. I especially hated skiing — dragging to school not only a backpack, but a pair of skis, poles, walking in those stupid ski shoes, freezing in the beginning of the class, then sweating and freezing in the end. Every day in winter, I was hoping for -21°C so outdoor activities would be cancelled.
This walk from my apartment through Neskuchny Sad to Sparrow Hills to Kievskaya train station was one those hikes we did routinely. I walked this route many times — there and back — alone or with my dad talking about things. We took all family guests and friends on this walk. During my high school and college days, it was the path to check the endurance and "interests and pursuits" of the cute boys floating around.
As soon as little Anton got on his feet and going, probably at the age of three, my dad took him on this walk. They came back with Anton obviously grinding his teeth and holding back tears and my dad disappointed:
— You'd better check this kid's boots. Looks like he needs a new pair, — snapped dad and went to his desk.
My mom and I rushed to Anton, to see what was wrong. Those were new boots. They were just handed down from the son of our neighbor two years Anton's senior. What could have been wrong? We pulled them off. In one of the boots, there was a gigantic beaded button, from one of my sewing projects, with a pointed metal loop sticking out, which was obviously digging into Anton's foot the whole time. 
The hike — there and back — takes two and a half hours. At least.
Across the river, there's Luzhniki Arena, where, in 1980, they had the closing and opening ceremonies of the 1980 Olympic Games. All major sports events take place there. Also in Luzhniki, my brother Alesha started his tennis training that took him up to the top and, then, down to the bottom.
We climbed up the Sparrow Hills to the observation square. This was a fantastic place to watch fireworks — the entire skyline would be constantly lit with shots coming from all over. I was here to watch fireworks only once or twice. Once. With my fear of crowds, I preferred my balcony — we could see blasts from at least six different locations.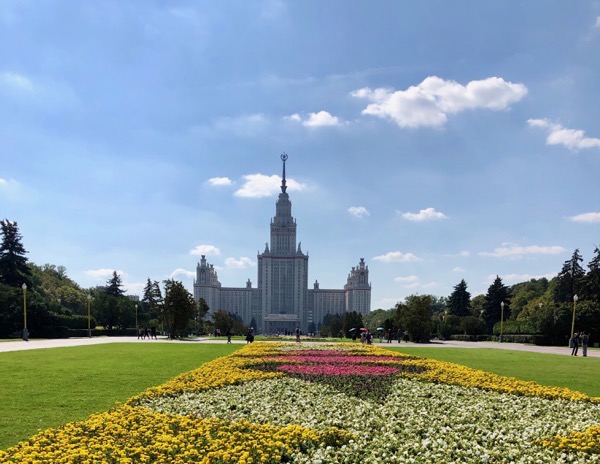 If you turn your back to the Sparrow Hills observation square, you'd face the main building of the Moscow State University, my other school. This building houses the administrative offices, dormitories, one or two departments — Geology and Geography, I believe — and, in one wing, there are professors' apartments. Other departments are spread all over town.
And here's little Charlotte on the steps of the school her grandma helped to build and her mother studied at.
This skyscraper was erected in the 1950s when my mother studied here. Students were required to participate in construction work. At home, we have pictures of my mom from that time on the construction site. 
Thoughts of transfer on Charlotte's mind?
Here's something new. In the place where a trampoline for high ski jumps stood, there is now a cable track and cars.
We took a ride in a cable car across the Moskva River from the Sparrow Hills to Luzhniki complex. The day was hot and the breeze from the water felt good.
Luzhniki complex with its alleys and arenas was deserted. August and everyone is away in camps and on vacations. We probably passed the building where I played handball while in middle school.
Here's the Olympic torch with a figure of little Misha the Bear, the symbol of the 1980 Moscow Olympic Games, which were boycotted by the United States over the war in Afghanistan.
When, during the closing ceremony, they launched a Misha balloon into the air over Luzhniki, we were watching him go up and up into the sky from our balcony as a teary song was transmitted over radio and TV.
Novodevichy Monastery and its cemetery. The monastery is now active and monks do not appreciate visitors. The cemetery is another story — it is open to the public and tourists from all over the world pour here by busloads. The cemetery is a historic and literary memorial, a museum of sculpture under the open sky, an inspiration to live, and enjoy life, and to keep going.
Some call this place the Russian Pantheon. There are people here who shaped the history of the country. Their names were in our school textbooks, their faces on television. Victims are buried next to their tormentors. Sculptors are buried next to the monuments they created. There are so many interesting stories among these graves. There's nothing sad or depressing here. Moscovites come to this garden for a walk, to read the names engraved on stones as memories bring back poems and music. And inspire.
The cemetery consists of three parts: the old, the new, and the very new. Although the layout is quite confusing, we found almost everyone we were looking for.
Here's Alexander Vertinsky — a poet, a singer, a composer, an actor. The shape of his grave reminds of a grand piano, his instrument of choice.
During the 1920s, Vertinsky emigrated from Russia and spent more than 20 years abroad. He came back in the middle of the Second World War. He was crazy popular, but officially he never really existed. He was never on the radio. No stories about him in the media.
My dad's mother and aunt were very fond of him and played his music at home all the time. They tried to get to his concerts whenever possible. My dad's aunt told me this story. When Vertinsky returned from abroad, he was so happy and overwhelmed to be back at home that he put his suitcases down and got on his knees to kiss the ground. When he got up, his suitcases we gone. According to legend, he sighed: "I recognize you, Mother Russia."
At his funeral, his wife tore a piece of paper out of her notebook and put it in his coffin, saying: "He's a poet. What if he decides to write something." 
Uncle Stiopa Mikhalkov. He is mostly known for children's poetry and fables. One day, he published a poem in "Pravda" newspaper called "Svetlana." Stalin, who had a daughter with the same name really like that poem. After that, Sergei Mikhalkov did not have any problems. He even wrote the words to the Soviet National Anthem.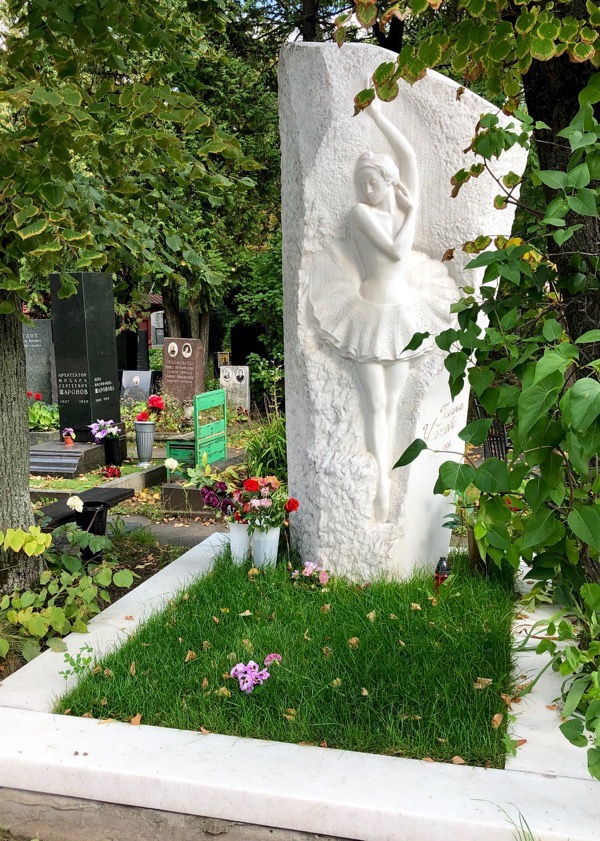 This is ballerina Galina Ulanova. Her fragile silhouette carved into a rough white stone is there to reflect the sophistication of her lines and strength of her character.
Beloved circus actor and movie star Yuri Nikulin. He is sitting here on his overcoat and having a cigarette. His dog Fedor is nearby. There are always fresh flowers on his grave, especially on his birthday.
Igor Moiseev, the greatest 20th century choreographer of character dance and a founder of the Moiseev Ballet Company. I read somewhere that he was asked about 20 times to join the Communist Party and every time he refused because he was deeply religious.
Here are Mstislav Rostropovich, one of the greatest cellists and conductors of the 20th century, and his wife, Galina Vishnevskaya, an opera singer. During Soviet times, they fell out of favor for their support of Alexandr Solzhenitsyn. At first, they were prohibited to perform, then they were denied Soviet citizenship. They lived abroad for 16 years and were allowed to return back in the 1990s.
Nikita Sergeevich Khrushchev. This monument made out black and white marble is supposed to reflect controversial personality of the Soviet leader. The sculptor is Ernst Neizvestny. There's a story here.
One year during the Khrushchev Thaw, in Moscow, there was an exhibition of artist-nonconformists. It was decided to bring Nikita Sergeevich to that exhibit. The decision was intentional. Everyone knew that Krushchev hated that stuff. The organizers were expecting the leader to blow up and use his reaction as an excuse to go after the artists. It all happened as expected. Krushchev was screaming, spitting, cursing, stomping his feet. The only person who dared to argue with him was a sculptor Ernst Neizvestny. The leader threatened to sent him to work in uranium mines.
Ironically, it's Neizvestny, who was approached by the Krushchev family to make a monument for the grave. And it's also ironic that nonconformist Neizvestny produced the most realistic head of the leader — wart and all.
This figure reminded me of the days my dad and I were glued to our TV set. I was in the first grade. Mom was away on vacation and dad allowed me to stay up late. And we were not the only ones hooked. Moscow streets were deserted for twelve days when they were showing the miniseries "Seventeen Moments of Spring." Vyacheslav Tikhonov played Shtirlitz — a Soviet officer who infiltrated into the high levels of Nazi Germany. Here is the actor in that role.
Ivan Kozlovsky, a great Russian tenor. My grandmother, dad's aunt, who had never married and never had children of her own, was very fond of opera. Kozlovsky was one of her favorites. She also loved Sergei Lemeshev and was absolutely mad about Leonid Sobinov. She collected cards with their images in real life and in costumes. When I was little, she would sit with me going through her cards telling stories of their lives, retelling opera plots. I remember her walking around the apartment and constantly singing areas from various operas. "Evgeny Onegin" was her favorite. She belonged to the group of women called "sobinistki." These women were so fond of Leonid Sobinov that, during the war, they gave him and his family their food rations and lined up to help his family with household chores.
Andrey Tupolev, a Russian and Soviet aviation engineer, under whose guidance more than a hundred types of aircrafts were created. During Stalin's purges, he was arrested on some dubious charge and sent to a concentration camp, where he continued to work in a secret construction bureau. At the start of the Second World War, he was released and, later, rehabilitated.
Another monument we never missed when I was here with my mom. Alexander Bakulev was one of the founders of thoracic surgery in the USSR. He was famous for his work with heart defects.
Two hands are holding a red ruby symbolizing a heart. They say the ruby has been stolen a few times but always replaced.
In the old part of the cemetery, there is an area called The Cherry Orchard, where Anton Chekhov, Konstantin Stanislavsky, and many actors of the Moscow Academic Art Theater are buried. This is the place of Stanislavsky who founded the theater — a stage curtain with the trademark sign of Chekhov's Seagull are on his tombstone.
Across from Stanislavsky, there is Chekhov himself. The writer died in Germany and was transported to Russia in a train car designed to carry mussels. He was buried here, next to his father. Later, his wife, Olga Knipper-Chekhova, was buried here, too. According to people who worked on this monument, it is exactly as tall as Chekhov himself was. The three spears on top are supposed to symbolize the three sisters or, some say, three pillars of life — Faith, Hope, and Love.
This stone called "Golgotha" that is on the grave of Russian writer Mikhail Bulgakov has an interesting history. It is so called because it resembles the shape of the mountain where Jesus Christ was crucified.
A few years before his death, Bulgakov wrote to one oh his friends about Nikolai Gogol, the author of a novella "Overcoat," whom he admired: "Teacher, cover me with your cast iron overcoat."
Gogol never wanted a monument on his grave. Knowing that, his friend Konstantin Aksakov found a plain black stone somewhere in Crimea. This stone, called by the workers of the cemetery Black Sea granite was installed on Gogol's grave with the inscription of prophet Jeremiah words: "Laugh with my bitter speech." That was in the 1800s.
In 1952, Soviet government decided to install a fancy new bust on this grave instead of a simple stone with the inscription: "To the great Russian artist of words Nikolai Vasilievich Gogol, from the Government of the Soviet Union." 
The "Golgotha" stone went into storage in the cemetery workshop.
When Bulgakov's widow, Yelena Sergeevna, was looking for a tombstone, she stumbled upon this rock — either in one of the workshops or in a ditch were refuse was thrown. She was told that some time ago the stone topped the grave of Nikolai Gogol. She bought the rock and installed it on her husband's grave upside down so the inscription is now on the bottom. The prophecy came true.
And Yelena Sergeevna is now next to her husband.
When I was little, this monument impressed me. For a long time, I did not know who that was. It's the folds of the fabric and the posture of a man with hands in his pockets staring at the ground with the sign "His soul was chaos" that stuck in my mind. Later I learned that this was the son of Maxim Gorky, a Russian writer, whose book "Life of Klimt Samgin" affected me so in high school. Vera Mukhina, a sculptor popular in Soviet times, made this image of a person born from stone.
One of the most visited places at the cemetery is the grave of Nadezhda Allilueva Stalina. She shot herself after a fight with her husband, Joseph Stalin. Many documentaries were filmed about the mystery of her life and death. From what I've read and heard, it feels that they truly loved each other and were very close. But as it always happens when two strong personalities try to coexist, life becomes complicated. Some historians say that Stalin was crushed by her death and that particular incident triggered a change in his personality, making him bitter and vengeful, turning him into a tyrant.
During her funeral, "the leader of the peoples" accused his wife of betraying him. Later, Stalin frequently visited her grave and cried here. His comrades didn't want their leader to be seen during weak moments or maybe they were afraid of the assassination, so they would not allow anyone here when Stalin was present. Rumor has it they even kicked Vladimir Tatlin out of his workshop in the bell tower of the monastery. The great artist returned here only for his final rest.
Allilueva's monument was vandalized several times. And it also did not hold up well to the weather. For a while, it was kept under a clear plastic cube. Finally, the original one was moved to the Tretyakov gallery and replaced by an identical copy made out of white marble.
Russian writer and journalist Vladimir Gilyarovsky. He was called the king of Moscow reporters. He was an expert on all things Moscow — history, architecture, geography, current events, elite and common.
Once he wrote a favorable article about a Lev Tolstoy sculpture. The sculptor was so pleased with the review that he promised to make Gilyarovsky a tombstone of real meteorite to reflect his true character. To that, Gilyarovsky laughed and said that he was not Tolstoy, neither was he planning to die.
Twenty five years later, Gilyarovsky was buried at this cemetery with his image cut into the meteorite found by that sculptor.
It doesn't seem like the best idea to take your children on their first visit to a country to a cemetery. But when I was little, my mom and grandma brought me here so many times telling the stories they knew, pointing to things. I was always looking forward to the trip. Today, probably, I wanted to come back here myself. And I dragged my family with me.
Charlotte picked up my vibe, studied the layout, and asked to find Dmitry Shostakovich. We located the grave on the map of the old part very quickly and then went around in circles for a while not being able see the tombstone — so small it was compared to others next to it.
Shostakovich's granite is decorated with metallic letters and numbers. One thing was missing — unfortunately. Was it vandalism or reconstruction? Between the dates of his birth and death, there used to be four notes: re, mi-bemol, do, ti. If to write these notes in Latin — D, Es (or S), C, H — they would make the initials of the composer's name — DSCH. The theme of these four notes was also considered his trademark.
I was surprised, relieved, and excited when Charlotte unexpectedly picked up the idea of looking for the places of interesting people just for the fun of talking about them, and about who they were, and why they are important to you.
She verbalized my thoughts on differences in cultural values. Suddenly there was my daughter telling me that the problem was not with me. We talked about how culture can equate with money and status or mean understanding and co-suffering.
There was this pesky tour guide who tried to weasel his way in to explain how different this cemetery is from all the the others. It is. People buried here are more alive than those walking the streets.
It was time for lunch and I was craving Georgian, one of my favorite cuisines. Georgia is now an independent country. It used to be one of the republics of the former Soviet Union. Its geographic position on the shores of the Black Sea made it a popular summer destination. When I was little, Georgian food was not available in Moscow and we could partake it only during a few brief weeks of summer vacations. Childhood memories of their kabobs, cheese pies, hot and tart sauces, vegetable pâtés, the smell of utskho-suneli and khmeli-suneli will forever be a sign of a special treat.
Right outside of the Novodevichi Cemetery there was this place — "At Pirosmani's," a restaurant named after a Georgian painter Niko Pirosmani.
Artsy and cozy, it was just what we wanted. The time was an odd one — too late for lunch, too early fo dinner. But lately, it has become our time to eat. One advantage to this trait when eating out — it's never crowded.
We easily got a perfect spot by an open window overlooking traditional Georgian grape vines.
The restaurant turned out to be a hot spot for local and international celebrities. There were pictures of Bill Clinton attending some event here with Monica Lewinski, Yoko Ono, Roman Polanski, Richard Gere, prime ministers of Japan, Canada, president of South Korea, prince of Denmark, to name a few.
And this is what they do here. After a celebrity rubs their butt on a particular chair, a metal plaque is made and attached to the chair of contact. Customers now can either choose whose chair to sit on or to be surprised. I accidentally rubbed my butt with Mick Jagger, Tom — with former German Chancellor Helmut Kohl. Charlotte got intimate with the Russian poet Bella Akhmadullina, Lizzie — with the French actress Annie Girardot. 
This celebrity overload made the service for mere mortals quite subpar. Our waiter was visibly bored and tired although the day was just beginning. He missed one of our orders, mixed up another one, and lazily blamed that on us. Being fancy, he was not taking notes and our hospitality expert Lizzie says this never works.
We started with khachapuri emeruli, a cheese-filled bread that has to be eaten by hand with melting cheese dripping all over your fingers.
Major Georgian thing — a plate of fresh herbs on the table. You can wrap it in bread, eat it by itself, or use it wipe sauce off your plate.
Satsivi — chicken in garlic walnut sauce — is usually served cold and I'd say the consistency and flavor of it can be compared to that of hummus.
Georgian vegetable pâtés — pkhali. Mmm… I can eat any version of it at any time of the day. It can be eggplant, leek, beet, spinach. Cooked and finely chopped vegetables are combined with loads of ground walnuts, garlic, fresh herbs, and traditional Georgian spices.
Cheremsha — pickled garlic shoots. Those were nothing special and, honestly, they tasted like they just came out of a can. I remember clearly how great cheremsha tasted from the barrels of Georgian babushkas trading in Moscow markets during the Soviet times.
Chicken tapaka — a young chicken fried under a press in a special pan called tapa. There are quite a few Georgian restaurants around us in the New York-New Jersey area where I have ordered this dish several times and it never worked — they use a small chicken or quails to cook it. The trick is that the chicken has to be young. Not small, but young — not much meat but lots of crust and flavor.
And of course — a kabob. We ordered lamb, got veal. Oh, well… the satsebeli sauce — a tomato-peppery-garlicky concoction — saved it.
Rested and refueled, we continued our walk toward the Russian White House and the new Moscow Business center.
We crossed Bogdan Khmelnitsky pedestrian bridge. Here we are at the entrance. The bridge itself is completely enclosed in glass. As you walk, it feels like you're walking through a shopping mall with those little stores and eateries.
The bridge dumped us onto the Square of Europe, which looked like it still was under construction. The square was supposed to symbolize Russia's attempt to integrate with the European Union. In the center of this square was a fountain named "Abduction of Europe." Hmm?..
Tom wanted to check out the railroad terminal overlooking the Europe Square (per quote at the start of this post) and we poked into Kievskaya station. The glass roof here was designed by Vladimir Shukhov, the same architect who built the department store adjacent to Red Square. All in all, this is the most elegant train station in Moscow.
Hotel Ukraina is one of the seven original Moscow skyscrapers commissioned by Joseph Stalin. It is built on a very low river embankment and a special water retention system was designed to keep this building sound.
The House of the Government of the Russian Federation or Russian White House. October of 1993 came to mind. I was already at NYU. It was one of my first conversations with Tom when we were standing in a classroom watching on TV this building being shelled by army tanks.
Right now, on the top of the building there is a coat of arms. Before 1993, there was a clock. This clock stopped after the very first tank's strike. The artillery activity covered the bottom of the building with black soot. Suggestions were floating that, instead of cleaning the building, the dirty parts should be covered with black marble — for posterity. But that obviously didn't happen. 
At that point of the day, we were getting tired but no one wanted to admit it. The Moscow International Business Center was ahead of us. That was something completely new to me. I do not even remember what was in its place when I lived in Moscow. Probably some kind of an industrial zone with falling apart factories.
Yes, this is not Burj Khalifa and 57 is not as impressive as 163. And the observation deck was enclosed. The windows were covered with multiple fingerprints, which made taking pictures not possible.
Lots of light on the streets of Moscow these days. Lots of cars.
From here, we opted for a metro ride home. Conveniently, the entrance was at the base of one of these City buildings. New Moscow metro stations are not as impressive as the old ones but my family is used to New York City subway so it didn't matter.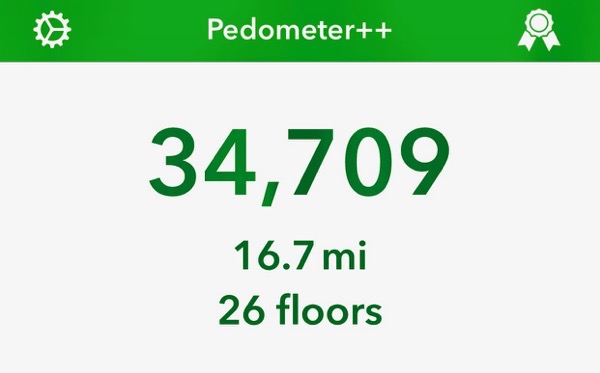 Tired but undefeated, we returned home. After a long hot day on foot, everyone was craving a shower. The hot water was off.
Another perk of Moscow life. Every summer, for a couple of weeks or so, they turn off hot water for maintenance purposes. Timing is random. As good luck would have it, in my building, they turned it off for the week of our visit. We heated water to wash hair. Then, led by Charlotte — apparently she's done it before — we all took cold showers.
My technique was to get into the tub staying away from the water, do one arm, another arm, legs, the front of the body. Then — deep breath, bit lip, eyes closed — icy water goes on shoulders and back.
How I did not pass out, I do not know.
---
---